Guide in Florence (Italy)
Tourist guide in Florence and it's surroundings
Ruta Abaraviciute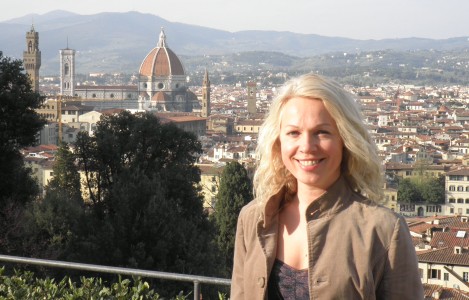 Guided walking tours, visits to all museums, galleries and churches.
I also organize one-day trips for small groups to other tuscan towns such as Pisa, Lucca, Siena and San Giminiano.
You can also experience wine and food tasting, cooking classes and shopping in artisan workshops.
Florence is a charming city, often called "the cradle of Renaissance". At first glance, it could seem an easy sightseeing touch, because it is small and all the sights are close together. Florence conceals its treasures in doors. Uffizi gallery, Pitti Palace, Accademia gallery, churches of Santa Croce or Santa Maria Novella each worth a whole morning on its own. It is also a city to fire the historical immagination. Picture, for example, Donatello, Michelangelo, Leonardo da Vinci, Cellini, Gallilei wandering its narrow streets...
My tours include what's world famous but also what's usually rarely seen, often missed but more than worth visiting. I organize one-day trips for the small groups up to 7 persons to Pisa, Lucca, San Giminiano, Siena and Chianti region.
Besides the museums, allow time for lounging in gardens, try the best ice-cream and have a quiet meal accompanied by Chianti wine while the sunset colors ignite the Arno river. All theese delights might convince you that perfection indeed exist.
I can suggest any kind of tours or help you in planning your personal itineraries, no matter whether you are a first time or repeat visitor, I will try my best to make your visit interesting, unforgettable unique experience, a precious memory that will last a lifetime!